2022 - 09 -23
【TAIPEI TIMES】RAC secures NT$550m Danan electric bus deal
By Lisa Wang / Staff reporter
RAC Electric Vehicles Inc (華德動能科技) has landed a NT$550 million (US$17.4 million) order from local bus operator Danan Bus Co (大南客運) to supply electric buses and deploy charging piles.

RAC has been contracted to deliver the first of the 48 electric buses to Danan Bus next year, the company said in a statement on Wednesday following a signing ceremony in Taipei.

The electric buses are expected to operate between the Taipei MRT's Xinbeitou and Taipei City Hall stations, it said.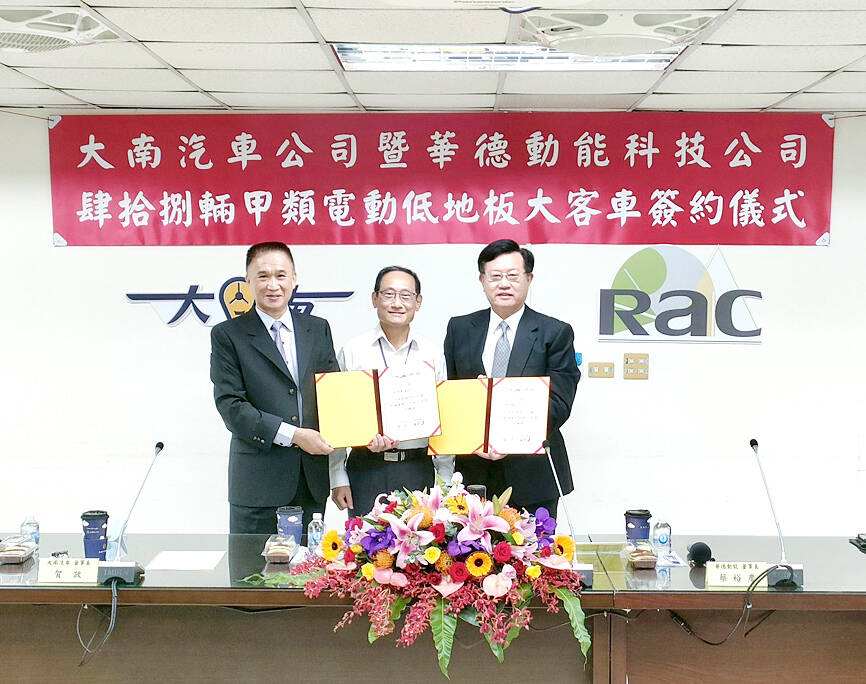 From left, Danan Bus Co chairman He Cheng, Taipei Department of Transportation Director Chen Hsueh-tai and RAC Electric Vehicles Inc chairman Kim Tsai pose for a photograph at a signing ceremony in Taipei on Wednesday.
Photo courtesy of RAC Electric Vehicles Inc


RAC is to help install charging piles with a 120 kilowatt capacity, and build energy storage cabinets in the bus operator's operation control center in Taipei's Beitou District (北投), the statement said.

The charging piles and energy storage systems are to be designed and manufactured by RAC's parent company, Mobiletron Co (車王電子), the statement said.

Maxine Technology Co (銓鼎科技), a subsidiary of RAC, is to help design vehicle fleet management software, a battery charging management system and an energy management system, it said.

RAC this year has signed orders to supply 64 electric buses to operators in Taiwan, it added.

RAC said it is confident that it would obtain subsidies from the Ministry of Transportation and Communications to build new electric buses.

The company in January received ministry subsidies of NT$10 million per vehicle to produce 105 electric buses.

The ministry has set a goal to electrify the nation's buses entirely by 2030 through subsidizing electric buses.

RAC in June expanded its business in Japan to supply electric buses to Nishi-Nippon Railroad Co in Fukuoka City, the statement said.

RAC began using a new plant in Taichung this quarter to support growing customer demand locally and abroad, it said.


網址連結
< BACK